Need a last minute gift for the sci fi and fantasy fans in your life? Give the gift of Boskone!
Give them the experience of a 3-day convention without ever having to leave the comfort of home! With over 165 program items led by today's top authors, scientists, artists, and creators in the science fiction, fantasy and horror industry, we think there's something for everyone. (Note: Most sessions will be recorded for on-demand playback through the end of February 2021.)
Been a good SFF fan yourself this year? Be your own Santa Claus and treat yourself! Memberships are only $25.
Happy Holidays from virtual Boskone 58!
---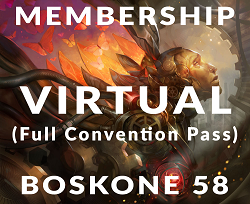 Need a card to go with your gift? We've got you covered!
After registering, download and print this holiday card to give to your giftee to let them know all about Boskone!