A great way to unwind on Boskone Saturday night is the Boskone Book Party! Enjoy this low-key meeting of the presses and authors who have new books coming out at Boskone! This is your chance to see what's new from authors you already love as well as those you have yet to discover. Plus, there's cake!
The Boskone 57 Book Party
Day: Saturday, February 15th
Time: 6:30-7:30 pm
Location: Con Suite, in the Galleria Level, Westin Waterfront Hotel
Book Party Authors:
E. C. Ambrose
Rick Berry
Jim Burns
Jeffrey A. Carver
Sara Codair
Jeff Hecht
Nicole Givens Kurtz
R.W.W. Greene
James Patrick Kelly
Patricia Morgan Lang
Errick Nunnally
Christopher Paniccia
Steven Popkes
Kim Stanley Robinson
Dave Seeley
Clea Simon
Mike Squatrito Jr
Gregory Wilson
---
NESFA Press is pleased to announce the publication of the Boskone 57 book Stan's Kitchen: A Robinson Reader by Boskone 57's Guest of Honor Kim Stanly Robinson at the Boskone Book Party, on Saturday, February 15, at 6:30 pm, in the Galleria.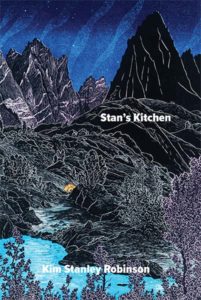 Kim Stanley Robinson is one of the most well-known SF writers in the world, applauded in non-SF circles for his grasp of vital ecological and political issues. His Mars trilogy, his Science in the Capital trilogy, and his recent novels 2312, Aurora, New York 2140, and Red Moon are all modern SF classics, each exploring directions in which our world may be heading.
In this book, Stan offers you a rare treat, a selection of his favorite pieces of his own writing, which offers a unique view into important ideas within many of his areas of interest. Stan has chosen examples of his entertaining fiction, including a band disaster, an exploration of the idea of whether Vinland existed or not, how a curveball might work on Mars, and his final Mars story.
Also included are insightful and wide-ranging essays on Gene Wolfe, Cecelia Holland, Joanna Russ, Stanislaw Lem, George Orwell, Philip K. Dick, Ursula Le Guin, and Chip Delany that should make you want to run out to find and read more of their works.
You'll read of some of his optimistic and naturalistic visions of our world in essays on predicting the future, on utopias and dystopias, on his Antarctic adventures, on hiking experiences in the wild, and on the fight to name a mountain. This personal collection of prose and poetry is the next best thing to sitting in Stan's kitchen, sharing a cup of coffee and conversation with the master.
Dust jacket illustration "Isosceles Peak from Dusy Basin" ©2012 by Tom Killion
Dust jacket design by Matt Smaldone
---